It's always been a dilemma for me, especially to give your kids a phone or not.  Problem is that, you're not too sure if they are responsible to actually owning one since Smartphones are quite affordable nowadays.  But now since Princess E is having extra classes and giving her a phone will probably land her in trouble (either get caught by the teacher or possible get lost or stolen).  I've decided to see what alternatives are there for me and phone watches came to my mind.  After doing some research, I went on to search for Q50 GPS Smart Watches and got the results.
  I managed to find out that was only selling for less than $20 that ship uses Singapore Post.  And Singapore Post never failed to send it in less than 14 working days to Kuching as compared to China Post where I'm still waiting for the packaged to arrive after 1 month still have not shown itself to me.   As I paid extra for the box just to make sure that it arrives safely, the box looks a bit dirty which I suspect could be due to being refurbished didn't really bother me at all.  So here are the specs for this watch phone : –
Quick Specs
* Name of Item: GPS Tracker Watch
* GPS type: GPS tracker
* Band name: Q50
* Screen size: 1″
* Screen material:LED display
* Frequency:GSM 850/900/1800/1900MHz
* GSM/GPS:MTK6261 UBX7020
* GPRS:Class 12 TCP IPbuild in GSm MODULE
* GPS Senstivity: -159 dbm
* GPS Positioning Accuracy:10m (2D RM)|
* Gsm Positioning Accuracy: 50-200mm
* Speed Accuracy: 0.1m/s
* Maximum Altitude: 18000m
* Battery Capacitry: 3.7V 320mA
* Size(watch case): 45.0 (L)*32.0 (w)*13.0 (H) mm * Weight: 35.1g
* Working temperature: -20~70
* Humidity: 20%~80%RH
* Interface: USB 3.0
* Color: blue/green/pink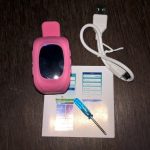 So inside the box consist of the watch, USB charging cable, Screw driver and User Manual.  Weight of the watch is not too heavy as Princess E didn't complained about it much.  Never the less, it was setting up the watch that gave me a lot of headache as I wasn't able to connect the phone to the SeTracker App.  But after doing a little bit of googling I was finally able to set up the watch with the App, and everything was pretty much smooth sailing after that.  Anyway, here are the steps if you need some tips on setting your watch up the first place.
Requirements :-
Install SeTracker App on your Android or IOS Phone
Head over to google play or Itunes to download the SeTracker App in order for you to connect your watch to the phone.
Micro Sim Card with No Pin, Caller Id, Calls, SMS, and Data Plans
Make sure your sim card has No Pin Lock.  Also it has Caller Id, calls, sms and data plan.  For me, I ended up signing up for a postpaid plan with ONEXOX Black (B10). The reason I went for that as it comes with 1GB data and 20 Mins calls for only RM10/month, that can be carried forward up to 100GB data! You can read more about it here.
Installing your Sim Card into the phone
The following image below is how you install your Simcard into the watch, which is straight forward.  Do be careful when lifting up the battery, as it seems kinda fragile for the wires connecting the battery to the circuit board.  Also make sure that the watch is powered off before proceeding, as it might damage the watch or so I've been told.
Once you've inserted your Sim Card, you're good to go and power up the watch.  After booting up the watch there are 2 things you need to notice to ensure before you can proceed to set up your watch.  First thing is the signal which is situated on the top left of the screen that you have signals.  And the second one is you have data connection where it will show E, just next to the signal bar.  Once the watch has signal, I would highly suggest that you set the Center and Slave number for the watch.
Center & Slave Number
Why this is important once you set up your watch for the first time, is to prevent unnecessary number trying to temper with the settings later.  Because the default password is 123456 or 523681(as I've yet to locate on how to change the password), it would be best to allow your phone number to be set as the primary number to access the phone feature.  To do so, what you need to do is from your main phone SMS to the watch number and type in the following codes :-
pw,123456,center,yourphonenumber# or
pw,523681,center,yourphonenumber#
Make sure the first letter p is small letter, as it seems to be case sensitive.  And separate it with a comma(,) after each function and finally end it with a hashtag(#).  Once you did this step, you should be good to go following the next step.
Change Password
I just found out how to change the password for your watch.  After you set your Center number from the above, enter the following code from your center number phone :-
pw,new6digitpassword#
That's it. So whatever command you send to your phone later make sure you key in your new password instead of the default 123456 or 523681.
For those that already have data connection you can skip No Data Connection part and proceed to the App Installation.
No Data Connection (Device Not Connected To The Internet)
This happens when your network provider doesn't seem to push the Network settings onto the watch.  So in this case we need to manually input the APN into the phone via SMS.  So here is the format you need to send from your current phone to the watch phone.
pw,123456,apn,apn name,user name,password,MCCMNC# or

pw,523681,apn,apn name,user name,password,MCCMNC#
The ones in BOLD are the fix command, where as italics are the values you have to get from your network provider. As I'm using ONEXOX Black (B10), the following details are as follows :-
Apn name = celcom3g
Username = blank
Password = blank
MCC = 502
MNC = 13
So create a new message to be sent to the watch phone via SMS, and the message should be as follows :-
pw,123456,apn,celcom3g,,,50213# or

pw,523681,apn,celcom3g,,,50213#
Something to take note here is that, make sure that the letter p in pw is small letter.  Because initially I couldn't get it to work as my p was capital letter.  Also that every command is separated by a comma (,).  If the username, password, MCC and MNC is blank, just continue with the comma and end it with a hashtag(#).  Once you received a confirmation SMS back from your watch phone, turn off the watch and turn it back on again.  By now you should see that the E is now visible and you can proceed to the next step.
Register Account on SeTracker
1 .  Enter your License ID manually or using the barcode scanner to scan the QR Code.  Your Id is situated behind the watch.
2.  Enter your email account
3. Enter the Nickname of the watch
4.  Enter your phone number (not the watch phone number)
5.  Enter your password and confirm it on the following textbox.
6.  Select your region, wherever you are and press OK.
You should get a confirmation message stating the account has been successfully created and brings you back to the login page.  Enter your login details there, and you should be able to access the following page as shown as below.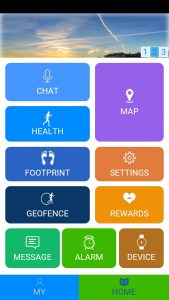 Issue #1
Now you may encounter problem such as ID does not exist or ID has already been registered.  If that happens, most likely you're seller could had tested the watch by pre-registering the ID or sold you a refurbished watch.  So instead of registering, you can first try login into the app with the following credentials :-
Account Name : ID.No of the watch
Password : 123456 or 523681
If you still can't login, contact the seller you bought your watch from and ask them to help you reset the password so you can gain access to the app.
Issue #2
If you still getting the error message of "Device Not Connected To The Internet" despite having data connection, you may need to update your IP_Url.  First you check the status of your watch by sending the following sms pw,123456,ts# or pw,523681,ts# to the watch.  You should get a return message like the following :-
ver:G36_V5.00_2016.06.03_15.09.52; (May Vary)
ID:**********;
imei:************************;
ip_url:agpse.3g-elec.com;
port:8001;
center:; (Please read the above before the No Data Connection Part)
slave:;
sos1:; (This will show your preset SOS numbers)
sos2:;
sos3:;
upload:600S; (Current Work Mode)
bat level:80;
language:0;
zone:0.00;
GPS:NO(0); (GPS Signal 0-100)
GPRS:NO(50); (GPRS Signal 0-100)
If the ip_url = agpse.3g-elec.com, you need to change it to the Asia server by SMS
pw,123456,ip,54.169.10.136,8001# or
pw,523681,ip,54.169.10.136,8001#
Here are the rest of the IP address i got from other sites :-
Asia & Oceania – 54.169.10.136
North America – 54.153.6.9
South America – 54.207.93.14
Europe – 52.28.132.157
Once updated, try and restart the watch and see if you can connect again this time.
Issue #3 (Updated 26th February 2018)
Please Confirm The Registration Code is Correct
If you get that problem when trying to register for an account via SeTracker, it means that you might have gotten a refurbished set and the seller forgotten to reset your account.  You can first try to contact your seller, and get him to reset your account for you.  If not send an email to this following email supportapp@3g-elec.sinanet.com and include your watch ID & IMEI and tell them to reset your account.  They should reply you within 24-48 hours, and once they told you they reset your account you can proceed to register your watch using SeTracker.
Setting up the App
If all is well, you should be able to start setting up your watch through the app.  I'll go through some of the process here. To access the setting page it's located on the Homepage under settings.
SOS Number
Here you can input in 3 numbers.  What happen here is that, when your child press and hold the SOS button.  It will first call the first number, and if the first number doesn't pick up.  The child will then again press and hold the SOS button, it will call the following number, and again if still no one picks up.  The child will press and hold the SOS button, it will call the 3rd number.  So if the 3rd number still no one picks up, the child repeat the process it will call the first number.  So think of this function as a quick dial function.
Monitoring,
What this does is that, you will get the phone watch to call you back.  So you can pretty much listen to what's happening around your child but it will mute the speaker on the other end.  So you won't need to worry if the watch broadcasting whatever things you say on the phone.  Please take note this will end up charging your bill.
Work Mode
This is how you set the watch to broadcast it's location.  There 3 different settings in there which are :-
Normal Mode : Where it will update it's location every 10 minutes
Power Save Mode : Update it's location every 1 hour
Follow Mode : Update every 1 Minute
Do Not Disturb
Here you can set the time where the watch will not be able to receive any phone calls or messages.  So you would normally set these during their school hours or other activities where they will not get distracted by unnecessary calls.
SMS Alerts
The watch can send you SMS, either when the watch battery is low, SOS button is being used or the watch has been removed.
Contacts
This is where you can filter out the phone numbers that can call the watch.  So my version allows me to have 10 whitelist people where they can actually call the watch.  Hence this is where the caller ID works perfectly.
Phone Book
So before you start keying in the numbers you can allow to call the watch, I suggest you add the numbers here.  Doing so will automatically add the numbers to the contacts menu.  Here are also the numbers where you can allow the watch to make calls to as well.  So again the watch will be able to make calls to 10 people that are inside list.
Language and Time Zone
Basically set the Language and the Timezone of the watch.
Push switch
Basically this is where you turn off the notification whenever the watch is currently not being used eg shower, swimming or charging time.
LBS
Or also known as Location Based Service.  This uses your phone network to locate the watch, but frankly speaking the location is way off.
Shutdown the Device
This one allows you to remotely shutdown the watch.  But I think once you're connected to the watch using the App, the user will not be able to turn off the watch.  As long pressing the power button actually activate the push to talk button.  So basically you'll be able to track the phone without worrying that the watch being purposely switch off.
Restore the default work mode
2 words. Factory Reset.  So everything goes back to the way it was before you set everything up in here. 🙂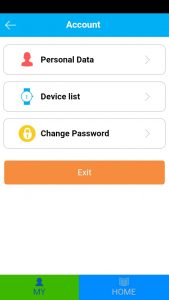 Account Settings
The account settings can be accessed by pressing the Me button on the bottom of the App.  On this page is pretty much crucial especially if you purchased a refurbished set from the seller.  Here is where you can set your account details to your details, plus change the password to prevent any unwanted access to the child's watch.  Also you can update your information here from time to time.
Personal Data
Here you can now update the data of the App to your current data.
Account – You can change your account login username here.  This would be extremely useful for those of you who purchased refurbished units.  Also will be used to reset your password.
Sex – Basically set your gender, to show your reply avatar on your chat App.
Name – Your name obviously.
Phone Number – Your phone number here is used so that when you reset your password, they will ask you for your phone number.
Email – Your email address also used as a security question should you forget your password, and will be used to reset the password for you.
Device List
Over here you can add multiple watches to your App. So if you have 2-3 watches you can add it all to this app here.
Change Password
Each time you reset the password, the default login password is 123456. So probably not a good idea to keep it that way, so best if you change that password to something secure.
Operating the Watch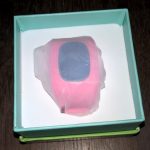 After fiddling around with this watch for a couple of hours, I've managed to find out how to actually use it.  And probably this section I will keep updating should I find anything or tips on actually how to operate it.  Also inside the App itself the other features such as pedometer and rewards are quite straight forward.  As I told Princess E, every 500 steps she takes she'll get a heart reward.  And all this you can monitor through the app.
But so far, I've been able to send and receive voice message via the push to talk feature that uses data.  Making phone calls via SOS as well as through the phone book, which I think is quite sufficient for a child to use.  I've still yet to figure out how to do make calls using the number 1 button.  Anyway, I'll go through briefly how to operate the watch so your child will be able to make calls with it.  One thing just to remind you that, the screen needs to be active in order for it to work.  Else you'll be wondering why the watch is not making any calls or using the push to talk function.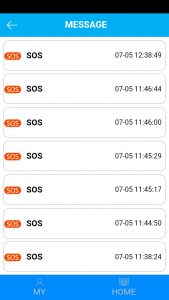 SOS Button
After you set the SOS number using the App, press and hold about 3-5 seconds of the SOS button and it will start dialing the phone number.  By doing so also, it will send a message to the App telling you that the SOS button is being used.
Making Calls Using Phone Book
Press the number 2 button, it will show the watch phone book.  To select the phone number you want the watch to call is by pressing 1.  It will then highlight the number if your child wants to make a call.  Once the phone number is being highlighted, press and hold the number 2 button for about 3-5 seconds it will then make the call to that particular number.  To abort or cancel the call, press the power button.
Push To Talk or Voice Message
Now this uses data to send messages through the push to talk function.  On the app under the Chat page, press "Start Record" and speak your message after that press the "Stop Record" to send the message.  Maximum amount is 15 seconds, plus because the receiving end is running on 2G connection.  It will probably take a while for it to download the message.
On the phone end, when the child received the message.  In order to play the message, what they need to do is press the SOS button and it will play the voice message. Unfortunately after the message is played once, it will automatically be deleted.  To send the voice message from the watch, the child need to press and hold the power button and it will change to recording.  To send the message, all they need to do is release the power button and it will send out the message.
Pairing 2 different watches with each other (Updated 10th February 2018)
To pair 2 different watches so that they can send messages to each other, this is what you should do.
Put the watches near to each other
Press Button 1 on both watches until the Add Watch image comes out then release
Try bumping the watch together, for 10-15 seconds you will hear a chime, and a successful message.
To send messages to each other press and Hold Button 1 to send the message to the other watch, while pressing Hold Power button will send the message to the App.
Apparently you can only pair with 1 watch only at the moment, might need to get another one to try it out and see.  Never the less, it uses Data, so it'd be great to communicate with each other as well.
Personal Thoughts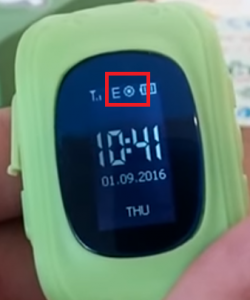 There are many type of GPS watches out there for kids, and the main reason why I ended up getting this one instead is not because of the price (well, it did played an important role).  But I like the way how subtle this watched look and it's not as obvious as the other models I saw, where they had a phone button on it as well as the word Sim on it.  Plus with it's plastic looking pink watch will not draw much attention and it looks cheap.  So people will overlook it, and will not think much about it.
  Well technically, she won't really get into trouble by bringing this phone to school.  And of course at least for now I will have a peace of mind especially if I'm late I could send her a message telling her that I'll be late and don't go out from the school compound.  I think for only $20 it's a good investment in terms of the safety of the child, where you can pretty much pin point the location of your child provided she is connected to the GPS or the network will give her a proper location.
  Also it would give you a peace of mind since they are not holding an actual smart phone, and I wouldn't need to worry that they'll be on social media or chat apps with the rise of Predators in my phone.  As this watch will reject the numbers that do not belong on the list, so it should be safe for them.
  Downside I think for these sort of watches is that they are not waterproof.  So will be kinda bummer if it really gets wet or their hands get sweaty.  Also I wish they have an App for Windows Phone or at least a web browser that could help track these watches.  There were some website do provide those tracking features, but unfortunately I can't seem to access them for now.  Never the less, I think it will improve in time to come.  Another drawback for this is that currently you can only connect one phone app to the watch.  I tried adding the Mrs phone, we were able to send message to the watch, but the watch was not able to reply back despite the sending was successful.  Anyhow I'll try and see if I can come with a workaround for that.
  Apparently you can login in to 2 different phones on the same account.  So when you send out a voice message from the watch, both phones will receive the message!  But when replying eg from Phone A, Phone B will receive the message as well as the phone watch.  But on Phone B the reply icon will think it's from the watch.  Never the less that's not an issue since you know who is replying and etc.  Another thing I found out was that, make sure that the watch does not run out of battery.  So if you set the notification for 20%, do charge it as once the battery runs out.  It will delete the APN settings as well as the center number.  So you may need to reprogram it again later.
  Just found out that the watch I bought is apparently a reproduction from the original wonlex Q50 watch.  Apparently if your ID appears to be 610 or 145 you know you've gotten the a fake.  Never the less, the watch still works well and also pin point your location accurately when you're on GPS rather than LBS.
Am I happy with the watch?  Yes.  Is Princess E happy with her new watch? Yes.  So head over to Gearbest and see if you can search for these Q50 GPS Smart Watches.  Feel free to leave a comment or thoughts regarding this product.
SMS Codes that I found on a Russian Forum, not sure if it's working for the current watch.  But thought would keep it here for future reference.
tkq
al
factory
reset
lz
ip
ntpservers
agpsservers
ntpservers2
agpsservers2
upload
verno
imei
pw
center
slave
sos
sos1
sos2
sos3
url
where
123
dw
ts
imsi
monitor
smsonoff
upgrade
apn
any
debug
gsmant
gpsant
displaytime
debugclose
fence
gsensor
lowbat
sossms
call
rad
cr
rg
update
gpssd
sjtcconnect
getstep
time
date
sup1
sup2
calltest
smstest
gpstest
sensor
pedo
bt
btname
worktime
work
sleeptime
walktime
silencetime
SMSCENTER
agps
remove
removesms
kpe
spof
remind
moveval
fixtype
flower
whitelist1
whitelist2
phb
phb2
longpresstime
wifipd
wifipu
wificheck
wifitest
wifireset
wifimodecheck
wifimodeset
wifiautosetip
wifirecoveryfactory
Feel free to buy me coffee if you find this post helpful. It would really help me out in maintaining this site. Thank you 🙂

Buy Me Coffee