[dropcap]S[/dropcap]o after not cycling for two weeks due to the fact I had to travel last minute, finally I managed to cycle again on 1st September, which we were fortunate that it was a public holiday replacement.  Before that, for the past 2 weeks due to not cycling and the food was amazing I gained back another 2.3KG.  But I'm not worried because I know I'm going to make up for lost time, while I was away.  Never the less, I felt disappointed that I missed out on the Boulevard Fun Ride but when duty calls you gotta do what you gotta do. Hopefully, I wouldn't miss out on next week major ride.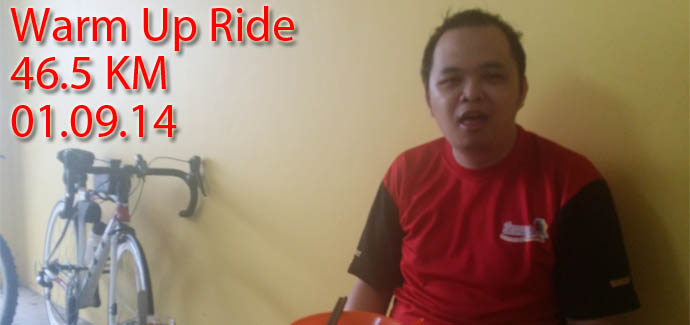 Anyway, met up Mat on Sunday asking if we wanted to ride yesterday.  But told him that I was a bit exhausted due to the fact I actually came back that very morning and had very little sleep.  But after lunch, I messaged him telling him that I wanna ride.  So we first met up at Hock Lee Centre at 5.15 am.  From there we began our journey going using the route from there to head over using the new Matang road and turn back from MJC.  Boy it was sure a tough ride for me after not cycling for 2 weeks, plus the road was wet and we riding extremely slow compared to our usual speed.  Despite drizzling at some point, we continue to press on before stopping at Taman Matang Bersinar.  Had a quick water break and rested for 5 minutes before continuing our journey once more.
Again despite Mat suggested that we take a shorter route and had back earlier, I told him that I wanted to make up for lost time and decide to push further.  Anyway, there was a point where I couldn't cycle any further that I had to get off my bike while climbing a hill.  Never the less, this was probably the first time I use Jalan Batu Kawa-Matang road as I never knew that we could actually cross from there.  Anyway, by the time we reach Jalan Batu Kawa I was more familiar to it and managed to pick up the pace.
Having said that, I told Mat that I need another pit stop but this time may need to refill my water bottle.  When I said that we were exactly on the junction heading towards the old Batu Kawa town, and he told me there was this famous meatball kolo mee.  So I said by all means let's go.  After resting and filling up our stomach and water bottles, I felt much better prior before the meal.  By that time, I noticed that my tires were a little flat so we went to the nearest petrol station to fill in air.  After that, we reach to Rock Road where we part ways due to where we were staying.  So overall took me over 3 hours to complete this time ride, after my previous 42km.
Never the less, there could be a few factors on probably why my performance dropped so drastically.
Lack of sleep
Didn't grab a small bite before riding
Bike was out of air
Stamina dropped due to the last 2 weeks of not cycling
Anyway, I took a break off today because my whole body was aching.  Will go another ride hopefully tomorrow if my body is not complaining.  Never the less, it's all good.
[strava id="188154504″]