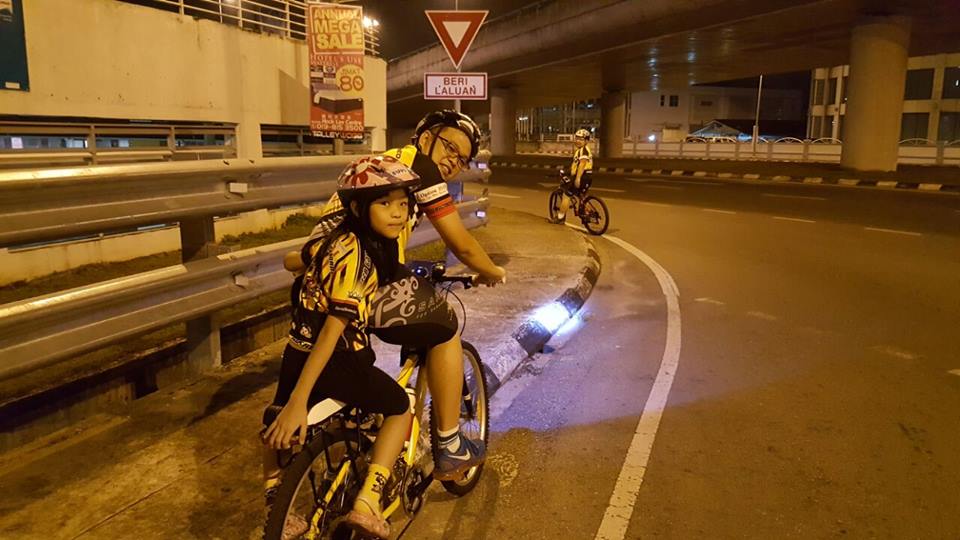 After adding on the seats post as well as the leg rest on my brother's Mountain Bike.  I've finally brought Esther out on her first 20km ride from our usual short ride.  As I wanted her to get used to being a pillion initially, have decided to go all out since Mat and Sim is riding as well.
  We first rally at City One by 5.30am, but we got delayed a bit due to the fact I haven't warmed up yet.  So it took me quite a while to reach our meeting point.  Never the less, by the time we got there Mat already went one round while Sim just arrived.  And so our journey began, heading off towards airport but we turn left just at the traffic light before reaching the airport.  From there our journey towards Stutong area was quite good as the road was smooth and less up hill.  Never the less, she felt a bit cold as it was still quite early in the morning.
  Never the less, the whole journey during that time was less cars so it was quite safe to bring Esther around.  Also with the help of Mat and Sim as support cycling it was easy to navigate around when the traffic got slightly busy.  Anyway, most importantly she had fun and she finally get to tag along with me.
  This was in a way for me to pretty much spend time with her, as I've been so busy for the past couple of months.  She wanted to do things with me, but I've always turned her down due to work.  As you know that I cut down from my cycling activities as well, which pretty much bum me out.  Never the less, ever since I got this mountain bike from my brother it really has been a blessing for both of us.  Just that now I wish I went and purchased the back rest, but it's all good anyway.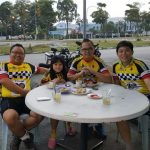 Anyway, we had breakfast at A-One BDC.  So she could experience what I always do when I go out cycling with the gang.  Well at least I get to kill 2 birds with 1 stone, which was actually getting some exercise while she gets to spend time with me.  Something that I always dream off doing ever since I got into cycling.  As much as I wanted to get a tandem bike, but till today I don't think I'm able to do so for now.  As one problem was looking for a proper place to store it, which for now seems a bit unrealistic.  After we got back, she was pretty much exhausted from the whole waking up early ordeal.  So she fell asleep once she got back home after church and lunch.
  So last Sunday, again I took her out again but this time was around town area and of course slightly later a bit.  Since I didn't want her to feel tired once again after our ride.  Never the less, we took a less shorter route around town where she got to visit her kindy, MBKS and then the famous Padungan Cat.  It was all good, and we ended up at Hi-Bread for breakfast before going back.
  Despite our busy schedule from work, I think it's great to set aside some time for our young ones.  It won't be long before they grow up too soon then doing things together will be kinda difficult.  As much as I wanted to bring Little T, but he needs to wait a while before that can be done.  But for now, it will be Princess E and Daddy time that is until Little T decided he can sit properly on the chair to join our adventures.