I was trying to look for a cheap tablet the other day for the kids as a Christmas present.  Then I stumbled upon this product, and I was quite amazed based on the price.  With the title Samsung Tab 10.1, I got a little bit skeptical about it so decided to view what other people had to say.  Needless to say, based on the price, indeed it was a clone unit. Anyhow I've decided to go ahead and purchase it and see how's the quality going to be like.
Here's a quick spec on the product given by the seller :-
+- 2GB RAM
+-16GB ROM
1.5 ghz Processor
10 inches LCD Display
Android Lollipop
Support External OTG
Support External Memory Up to 32GB
Support Phone Call/ Video Call
Support Wifi/Bluetooth/Hotspot
Playstore Free Download Any Apps/Games
Dual SimSlot
Dual Camera (B 3.2 / F 2.0)
Battery Capacity 3200mAh
Unboxing Details
So I placed the order on Tuesday and was fortunate enough to get the tab on Friday, just right before Christmas.  Needless to say, the packaging was sufficient and the tab arrived safely. After unwrapping the bubble wrapper, the box has already been opened as there was no plastic seal like most new packaging. This was probably due to the fact that the seller wanted to transfer the videos and games into the tab first as well as placing the cover inside the box.  As shown in the picture, that is pretty much what you'll get when opening the box. USB cable, Charger, USB OTG, headphones, user manual, protective cover, and of course the tab itself.  They've also help install the screen protector for you, so you won't have to worry too much about it.
Product Quality
The build quality on this thing is ok, but not great.  Considering the price I paid for it, one shouldn't really complain about the plastic body.  But once it goes inside the protective cover, you won't really be feeling the tab anyway.  Not only that, it also weighs quite a bit. Again with the protective cover that can covert into a stand is a plus for me.  If you noticed on the sim slot, it actually pops open.  So do be careful when opening it, as mine dropped to the floor and I almost lost it.  The sim slot accept the normal size sim card, not the micro or nano type sim.  But till now I am still unable to get it to work with both my Maxis and Celcom line. I've managed to get both the sim card to work, where I had to turn off and turn back on again.  So you can't just hot swap your card, like I did initially.  And to my surprise it comes with 4G connection! It does not comes with 4G, only 2G and 3G.  As they fake the 3G sign with 4G, so Unifi or those that uses LTE will not be able to use this tab. But since this is for the kids I don't think it's necessary for them to have the sim card as well.
Switching It On
So the first thing you'll probably notice is a boot animation and goes into the Samsung Boot Logo.  Again just to remind you that because of the price you'll be paying for this thing, the display isn't going to be retina display. But you'll definitely notice the word Samsung is quite blur.  And the first initial boot up took about close to a minute before going into the home screen.  So upon reaching the home screen you'll notice the usual apps which are play store, gallery, phone, sms and settings. When I open the app drawer, instantly I knew this product is good.  The reason is that it doesn't come with any bloatware, where I knew it would take me a while to clean it up.  But just to test and be sure that there really isn't any of those stuff, I went and did a full reset on it.  True enough, no bloatware were installed even after doing a clean reset.  So that is a plus 10 in my book.  Swiping left and right on the home screen is quite fluid, but you'll get an occasional lag but it's ok so far.
Specs & Performance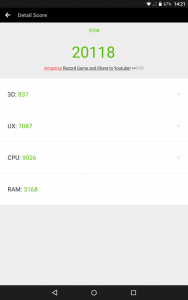 So I went and downloaded geek bench and did a test on it and here is the result.  It scored fairly well, and during the 3D test it lagged.  So the first game I installed on it was Fruit Ninja, the tab couldn't really perform that well I would say.  There's a 0.5 to 1 second lag when swiping.  But after a while you'll get use to it and pretty much predict where the fruit will be when you try to cut it.  Still playable but for some might not really be ideal for them.
If you're not into gaming, then this tab should work just fine.  Browsing the web, playing YouTube videos and movies from the tab there is no problem.  Reading e-books or pdfs file you can scrape by too.  I installed Microsoft Word and paired with my Bluetooth Keyboard and Mouse, you've pretty much got yourself a portable work station.  So you still can get the job done on this device for light work loads. Again I would to emphasize on the price I got it, I couldn't really complain much if I were to bought this just for simple work purposes when I can't be on my desktop or laptop.
Now if you recalled the specs based on the seller's description above.  Here are the actual specs :-
Seller Specs

+- 2GB RAM
+-16GB ROM
1.5 ghz Processor
Android Lollipop (Android 5)
Dual Camera (B 3.2 / F 2.0)

Actual Specs

4GB RAM
32GB ROM
MT6580 Processor
(Quad Core 1.3 ghz)
Android Marshmallow (Android 6)
Dual Camera (B 5MP / F 5MP)
*Could be software interpolated
I couldn't find much details on the actual battery size but never the less, based on the actual specs I'm getting more than what I paid for so kudos to the seller here.  I'm kinda glad that it came with Android Marshmallow instead of Lollipop, but would be even better if it was Nougat.  But again if it's for the kids, then it should be fine for their daily driver.  As for the camera, please do not put too much high expectation on it as you know it's a low end device for this tab.
Click on Image for Full Specs Details
Battery Life
Initially I can get 5-8 hours of watching videos on this tab.  I think it could be due to the quality of each movie being played.  However if I were to connect it to the Internet and watch YouTube with full brightness, the maximum viewing time I could get would not exceed 2 hours.  But if you reduce the brightness you could get at least 3.5-4 hours max.  Charging time was quick though I noticed on this device.  In 30 minutes I could get from 20% to 70%, not sure if it's accurate or not.  But for a full charge it would take me about 3 hours to get it fully charged.  As it tends to stuck at the 99% for quite some time.  Never the less, I suggest that it would be better to download the movies to the tab instead of playing it through YouTube on road trips.
Final Thoughts
After using this Tab for over 2 weeks now, it's be safe to say that it's really a bargain.  I would take it as a media player instead, to watch movies or listen to music on it. Did I mention that the speakers were really loud?  You can seriously consider getting this for light usage.  If you're not into heavy gaming, then this would be the perfect device for you.  As for my kids, they're not complaining and it does serve its purpose rather than viewing the video at close range using a 5″ phone.  At least mummy's phone is no longer hijacked by the kids with this, which is good so she doesn't need to charge her phone every 5-6 hours.  Again don't expect high performance on this device considering the price you'll be paying.  At least now I know how the Mediatek MT6580 processor performs.  But overall, if you need a tab with this simple feature go get it.  And don't compare it to the actual original product once you got it, because you'll definitely be disappointed.  For my case here, it's definitely a WIN and best buy for 2017.  Cheers.
Be sure to get from this seller Exclusive Solutions. He was quick to reply to my questions, and prompt in sending out the tab.  Transit time was due to Poslaju, as it took about 4 days from West Malaysia to East Malaysia. So be patient, you won't regret it!