[column size="one-half"]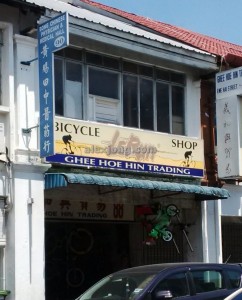 [/column]
[column size="one-half" last="true"]88 Jalan EWE Hai
93000 Kuching
Sarawak
Malaysia[/column]
---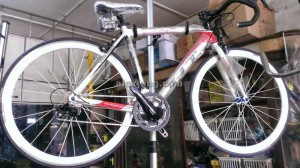 [dropcap]T[/dropcap]his is the shop where I got my road bike from.  The owner was indeed a pleasant man to deal with, where he explained practically everything that I need to know about road bikes.  He first asked me my budget and of course I went with the lowest below RM1,000.  Never the less, he still showed me the different type of bikes and price range despite knowing that I was aiming for something below RM1k.
When I asked him the model which is currently being displayed on his holder, without hesitation he brought it down for me and got me to test it.  The price he gave me after discount was RM1,400.  Which comes with a helmet, water cage and bottle, and a stand.  So I thought it was pretty much a deal, and after further negotiation he also threw in a rear brake lights, torch light with handle, and a wireless speedometer for me for another RM118.
After further discussion with my friends, I've decided to get this bike instead.  Which was still within my range and pretty light.  It came with Shimano Sora Gear Sets, as well as Kenda Tyre.  Overall this bike weight about 10Kg, and I told myself once I get this bike I will commit to ride it everyday.
Update 17.07.2014
I went back there again today and got myself a bicycle pants.  Which apparently helped cushion my butt because seriously it was painful from this morning ride.  Never the less, the owner made me an offer I couldn't refuse and of course he showed me his retail price.  Never the less, I was happy about it and that helped me soften my ride.  Thanks Jason for the info on getting a bicycle pants.
Update 25.07.2014
Bought another water bottle with cage for a friend of mine.  I wanted to get an extra for myself because one bottle wasn't enough.  Unfortunately he didn't had anything that could be added on to my bike.  Never the less, it's all good and hopefully he will order more in the near future.