Website : http://cronusbikesmalaysia.wix.com/home
Lelong : http://www.lelong.com.my/merchant/cronusmy.htm
Facebook : https://www.facebook.com/cronusbikes
---
  After my bike ride yesterday morning.  My butt was extremely painful, and I couldn't really ride today.  So what happened was that I headed over to lelong to see if I can find anything that I could use to help cushion my ride.  Lo and behold I found this seller who was selling saddle cushion.  At the same time I was wondering if I should get a bag frame as well, and after talking with Kit Soon he say go and get it.  Because it's really handy, especially if I intend to use Strava for my ride.  Plus I wouldn't really need to worry about it.
  Never the less, I made an order from Cronus.My and paid before 12.30pm.  Because I wanted to combine ship both items thinking it would be cheaper, the seller was more than happy to do so.  Initially I went and paid for the bag first, where the saddle they didn't update the shipping to Sabah and Sarawak.  So while waiting to pick up Esther, I received an sms from this seller stating they have updated the shipping and I just top up for the saddle.  I told them that I was outside and will transfer payment to them once I got back home.  And they were kind enough to wait for me as their cut off time is 12pm, in order for them to ship out on the same day. Within less than 24 hours after paying them I received my package!  Talked about quick service.  You should really check them out.
[column size="one-half"]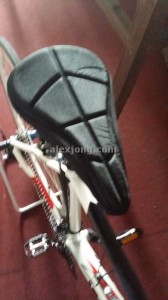 [/column][column size="one-half" last="true"]
[/column]
Updated 22.07.14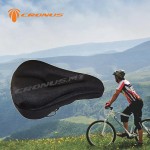 I've went and made another purchase of the same thing again but this time with a different saddle.  As I intend to give this as a gift.  As usual the seller gave me a discount for combine shipping and shipped it out on the 21.07.14.  After shipping, the seller promptly informed me that Poslaju is having a Raya break, and the item will most likely arrive a week after Raya.  I thanked the seller for informing me and not to worry about it as I already knew about the delay.  Never the less, I got the package today and quickly informed the seller that I've received it.  And they were relieved that I got it early and not later.  It's very rare that I get seller like this, where they update you everything promptly.  All I can say that, they will surely be my regular suppliers should I am not able to get anything here in Kuching.  All I can say is 5 stars service for 1 star price!